FRINGE: (Optional)
To make fringe, cut two 6" lengths of yarn for each stitch across the bottom of the Bag. Attach two strands of yarn through each stitch across to make fringe.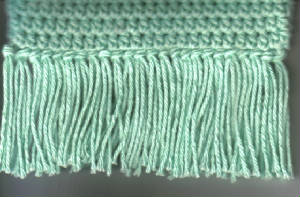 Close up of Fringe
STRAP:
With right side facing, attach cotton yarn with a slst to an sc at the edge where the Flap and Pouch meet. Chain 75, being careful not to twist yarn, attach Strap with a slst in a sc on the other side of Bag.
NOTE: There should be 23 unworked sc across front of Bag after Strap is attached. This will make the Bag hang straight).
With the second side attached, slst in the next sc back from that slst to help anchor it. Slst in each chain back to the beginning slst. Slst in the next sc back from the beginning slst to help anchol the Strap on that side. End off. Weave in all ends with yarn needle.
I hope you enjoy making this little beaded bag.
Joyce Hodnett