This is my original design for "Crazy Flowers In A Vase" in filet crochet. When using size #10 thread and a #7 hook, it should measure 10.4 inches wide X 10.2 inches tall when finished.
Using my chart below and starting at the bottom right of pattern, chain 85. Chain an additional 3 to turn which will count as the first double crochet of the first row. Double crochet in the 5th chain from hook. Double crochet in the next 2 chains to complete the bottom right solid square of pattern. continue following pattern for first row reading pattern right to left. After completing the first row, chain 3 toturn to start the next row. Continue following the pattern until all rows are completed. At the end of row 41, fasten off thread.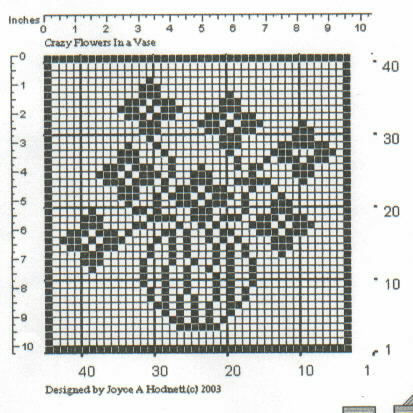 This filet pattern is designed and copyrighted by Joyce A. Hodnett (c) 2003. You may print out a copy for your own personal use. Do not post my patterns to any web sites, emails, or groups.
I'd be delighted for you to link to this URL.